Coal fired power generation plants produce electricity making conveniences of modern life possible. The process and environment from which power flows is challenging for equipment. Water and coal dust are ever present. This combination of moisture and dust are the two most common avoidable contaminates found in lubricants.
For this environment, the Air Sentry® X Series or XR Series is the best choice for performance, serviceability and value. For stationary applications, Air Sentry® X Series, with double check valve design, delivers maximum life for the silica gel desiccant and the cost savings of a replaceable cartridge. The double check value design allows air exchange as needed, while maximizing desiccant life in a wet, humid environment. For mobile or high vibration applications, such as conveyor lines, the XR Series with metal reinforced base is the best choice.
Pump manufacturers report a 50% increase in service life if pump lubricants are protected from airborne contaminates. Bearing manufactures report a 3 fold increase in bearing life when lubricants maintain ISO cleanliness standards. With Air Sentry® on duty, equipment is more reliable, downtime is reduced and return on investment increases.
X-Series Breathers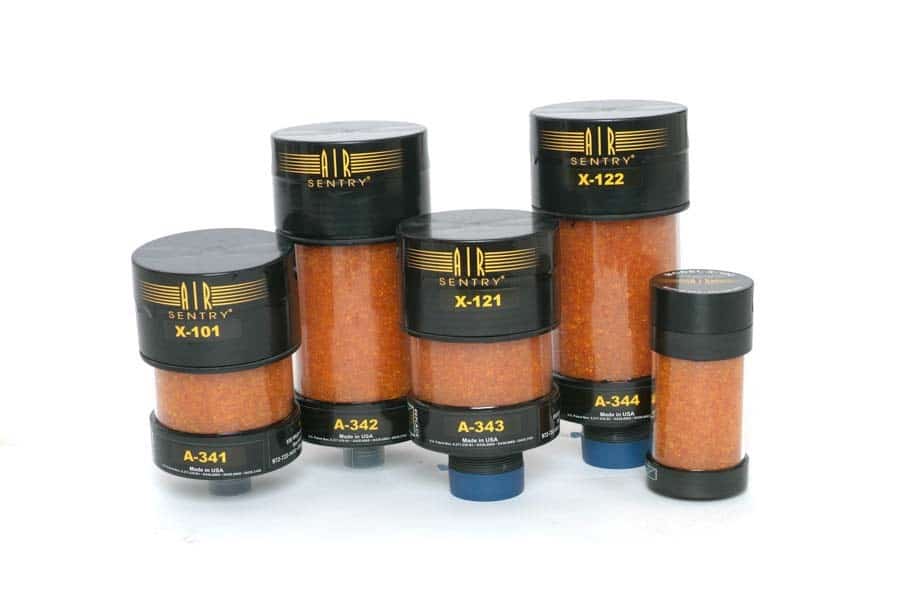 X-Series Breathers are the perfect solution for high humidity and high dust environments. To extend the desiccant's life, the X-Series incorporates two check valves and a reusable top cap. The check valves provide a closed system until airflow is required, extending the service life of the desiccant. Specifically, the intake check valve allows airflow into the breather only when differential pressure between the atmosphere and fluid reservoir exceeds a 0.1-psi threshold, while the exhaust check valve permits air to exit the reservoir when the differential pressure exceeds a 2.0-psi threshold. A 0.1-psi check valve is also available for exhaust. When the gold silica gel cartridge turns dark green, simply install a new replacement cartridge to keep things moving.
Applications: High Humidity / High Dust Applications • Paper Mills • Wash-Down Areas • Steam-Cleaning Rooms • Mine Quarries
XR-Series Breathers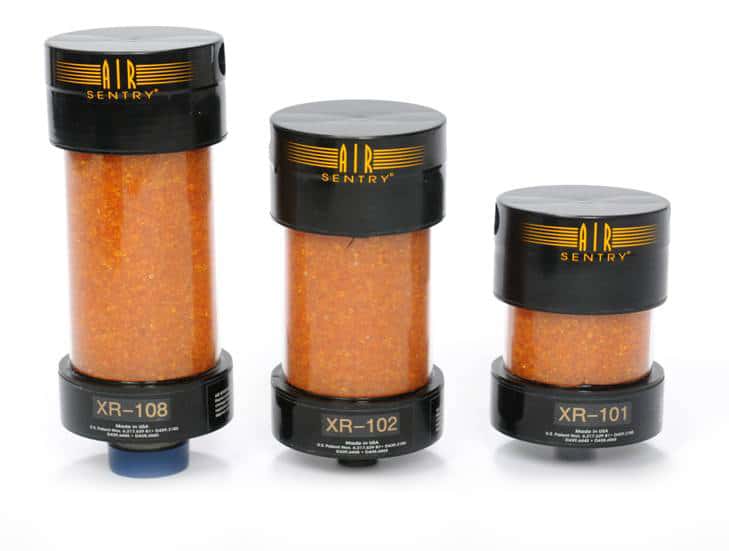 XR-Series breathers were originally engineered for the wind power industry but are designed to perform in any extreme environment where protection from dust, moisture and vibration is critical. These breathers include a metal reinforced base, available with male NPT threads to adapt to your equipment. The base is designed to handle the rigors of high-vibration applications. The top cap uses two check valves to prevent outside moisture and solid contaminants from entering the breather until there is a need for airflow. The modular design allows for economical replacement of the desiccant cartridge.
Applications: Windmills and Wind Power • Mining Equipment • Mobile Equipment
---
If you need assistance determining which Air Sentry® desiccant breather is right for your specific application, please don't hesitate to contact our engineering department.