Orion's Path to Innovative Bearing Protection Technology and the Issuing of their Patent
Since the opening of Orion Engineered Seals in 2011, their team has been working tirelessly to ensure they have the most innovative products available to increase the reliability of rotating equipment. Among their various product lines, it is their patented Bearing Protection Device (BPD) in its many design variations that separates them from their competition. In March of 2017, after a long yet rewarding process, they were issued a US PATENT for their robust and distinctly innovative Bearing Protection Device (BPD) technology. There is so much they could say about why their products stand above their competition, but today we're going to focus specifically on the team behind the BPD and why Orion has been so successful.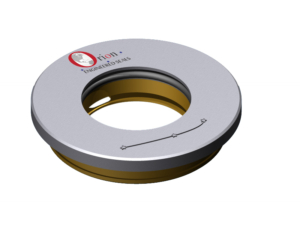 Todd Brickson, Director of Engineering has been working in manufacturing for over 25 years and is enjoying the fruits of his hard work. When designing the BPD device he had a few key points going through his mind.
To create the most effective, innovative, and efficient design in bearing protection
How can we be innovative in the market and create something that has never been seen before
Develop multiple internal layers of contaminant control that would surpass any design available in the market today.
With those goals in place, Todd did just that, but it didn't just stop after the designing of the BPD. Then it had to be created into a physical reality which took their president Randy Jaskot working closely together with the entire team to perfect the BPD to what their company envisioned. The challenge to create a design that would perform better than the competition is something that drove Randy, Todd, and the team to do such an outstanding job.
Now, as their patent has become a reality, they felt compelled to share this news with all who could benefit from this cutting edge technology. Not only the news about the product but to give you an understanding of the great team behind the BPD and all Orion products as well. Orion Engineered Seals has grown exponentially on a global scale, and we encourage you to visit their website (www.orionseals.com) for further information about their BPD and all other products they offer.
---
Gallagher Fluid Seals is proud to be an authorized distributor of Orion Engineered Seals. If you have questions about the BPD and how to implement them into your processes, please contact us today!
The Orion Engineered Seals BPD can be used all throughout the plant.  There are a variety of designs already created for Pumps, Motors, Gearboxes, Pillow Blocks, Turbines, Oil Mist applications, Paper Machine Rolls, and many other specialty applications.  But as Orion's name implies, they are manufacturing "Engineered Seals", and would be happy to design a custom sealing solution for your worst application.