The Freudenberg Simmerring has been a successful product for about 85 years. It seals rotating shafts reliably, and is used in millions of applications and machines in many industries. The Simmerring is flexible, highly loadable, and very dependable. Freudenberg Sealing Technologies has now further developed Simmerrings for use in the process industry – and they are made of food-grade materials.
At high rotational speeds and pressures, traditional PTFE shaft seal rings quickly reach their limits. Seal malfunctions and leaks are the result. Moreover, it has not been possible to use Simmerrings in the food industry to this point because their PTFE materials have not been approved for food-related applications. That's why experts at Freudenberg Sealing Technologies have developed two new materials – from which tried-and-tested Simmerrings are manufactured – especially to meet the process industry's requirements.
Maximum Performance even under Extreme Pressure: B2PT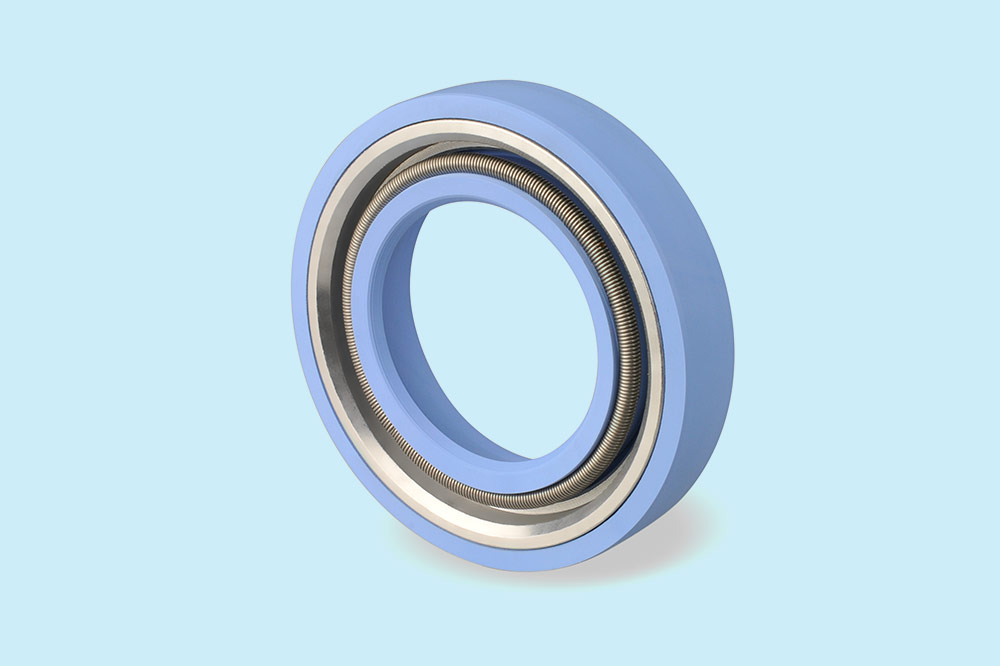 Simmerrings with the B2PT design can be stressed with pressures of up to 10 bar. The B2PT consists of a newly developed material, Quantum® PTFE F18245, and a housing made of 1.4571 (V4a) stainless steel. The PTFE used here has been conceived especially for direct contact with foods. The still-required approvals under FDA 21 CFR §177.1550 und EC 10/2011 are in preparation. This Simmerring design is thus superbly suited for the food and pharmaceutical industries. The design of the B2PT can also be adapted for customer-specific, individualized applications.
First Dead-Space-Free Simmerring: the Hygienic Blue Seal
The Hygienic BlueSeal, the first dead-space-free version of the Simmerring, is another newly developed design. It meets the standards of hygienic design and is thus ideal for use in the food and beverage industry. This hygienic shaft seal ring has a forward-mounted lip whose geometry permits no hard-to-clean areas. This prevents the accumulation of bacteria that can lead to process contamination. The Hygienic BlueSeal can be used in applications that develop only low levels of friction. Thanks to targeted adjustments in geometry, applications with pressures under 1 bar are possible. The new Quantum® PTFE F1824 is also used in the Hygienic BlueSeal.
High-Performance Material with High Performance Design: Simmerrings Made of 75 Fluoroprene® XP 45
With the 75 Fluoroprene® XP 45, experts at Freudenberg Sealing Technologies have succeeded in developing a material from the Fluoroprene® family especially for secure attachment to metal. The highly fluorinated material has all the required approvals and certificates under EC 1935/2004, EC 2023/2006 and FDA 21 CFR §177.2600 that are prescribed for contact with foods.
In general, seals made of Fluoroprene® XP stand out for their outstanding, broad resistance. It combines the very good qualities of EPDM materials in polar media (water, acids, lye) with the outstanding performance characteristics of FKM and VMQ in all nonpolar media (greases, oils and hydrocarbons). Thanks to the complete encasement of the Simmerring with 75 Fluoroprene® XP 45, supplemented by a stainless steel spring, it is superbly suited for use in the food and beverage industries.
---
Gallagher is a long-time distributor of Freudenberg products.  If you have any questions regarding FDA-approved sealing materials, or the Freudenberg line of sealing products, please do not hesitate to contact us.