Cement and aggregate facilities are dusty, dirty, humid environments. Sand, gravel, crushed stone and water are in use in many forms throughout the facility. Keeping solid particles and water vapor out of oils and machinery is important.
Mobile equipment such as cranes and shovels are used to move materials around the facility or place them on conveyor systems. They are also used to dig or dredge the sand and gravel from lakes, rivers and streams. Hydraulic systems and gearboxes on the mobile equipment are subjected to dust and humidity continuously. Protecting the oils from water vapor and solid particulates keeps the systems running smoothly.
Bulk material handling terminals load, unload and store the fine and coarse aggregates. The conveyor systems are used to move various materials. Each system is equipped with large drives, gearboxes and bearings that have oil and lubrication reservoirs. Air Sentry® breathers provide protection from airborne dust and moisture.
For extreme conditions, like what can be found on equipment in a cement and aggregate facility, many breathers can be used. The M-Series breathers provide rugged steel housings for the most extreme conditions. The XR-Series combines the strength of the steel base plate with the controlled airflow of check valves in an economical disposable cartridge. For applications where vibration or rough ground isn't an issue, the X-Series breathers contain two check valves in the top cap to protect the breather and equipment from air ingression unless it's necessary.
---
M-Series Breathers

M-Series Breathers are designed from heavy-duty materials capable of handling the requirements of the most severe environments. They replace the standard breather cap or vent tube on fuel tanks and fluid reservoirs. Pipe threads on the bottom standpipe make the units easy to install in moments. All M-Series designs have 2 micron pleated filters and silica gel bags that are easily replaced. They also feature the proprietary Splash Sentry™, which prevents foaming or splashing fluids from entering the breather during normal operating conditions.
Applications: Heavy Duty Off-Road Equipment • Heavy Mobile Equipment • High Temperatures • Corrosive Chemicals
X-Series Breathers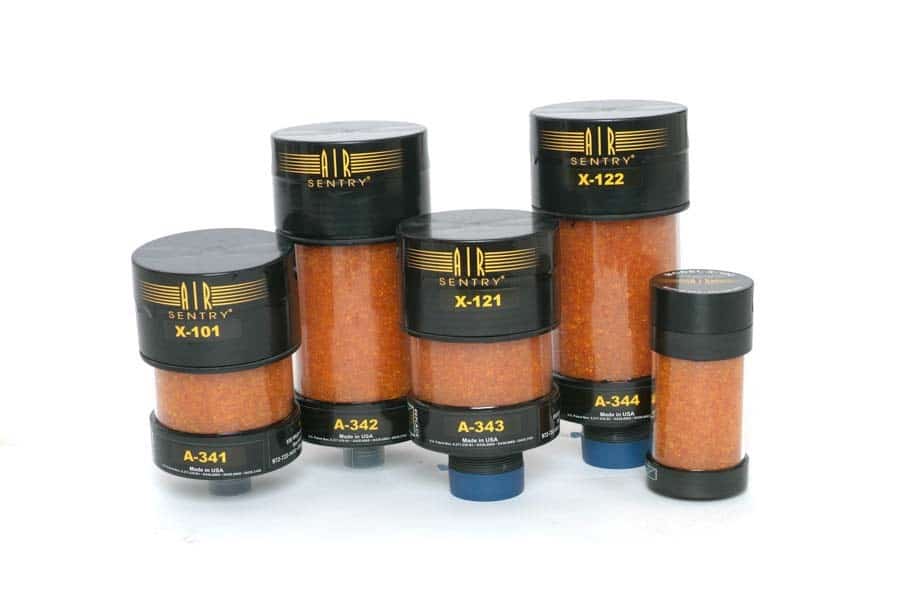 X-Series Breathers are the perfect solution for high humidity and high dust environments. To extend the desiccant's life, the X-Series incorporates two check valves and a reusable top cap. The check valves provide a closed system until airflow is required, extending the service life of the desiccant. Specifically, the intake check valve allows airflow into the breather only when differential pressure between the atmosphere and fluid reservoir exceeds a 0.1-psi threshold, while the exhaust check valve permits air to exit the reservoir when the differential pressure exceeds a 2.0-psi threshold. A 0.1-psi check valve is also available for exhaust. When the gold silica gel cartridge turns dark green, simply install a new replacement cartridge to keep things moving.
Applications: High Humidity / High Dust Applications • Paper Mills • Wash-Down Areas • Steam-Cleaning Rooms • Mine Quarries
XR-Series Breathers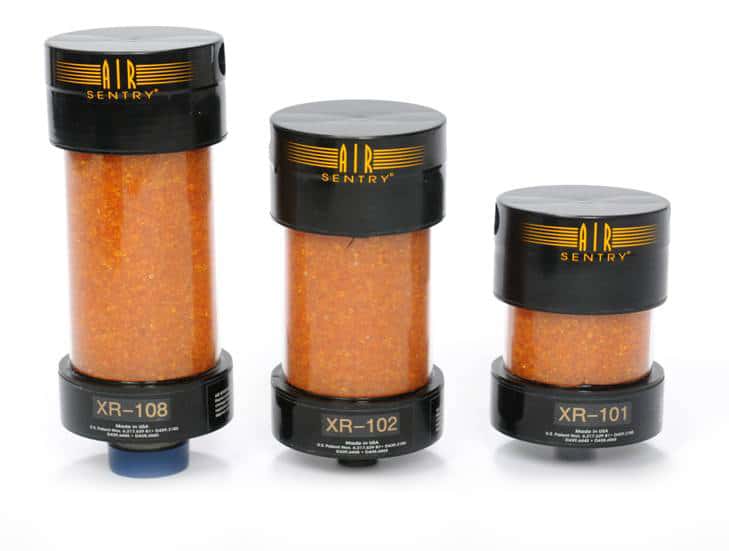 XR-Series breathers were originally engineered for the wind power industry but are designed to perform in any extreme environment where protection from dust, moisture and vibration is critical. These breathers include a metal reinforced base, available with male NPT threads to adapt to your equipment. The base is designed to handle the rigors of high-vibration applications. The top cap uses two check valves to prevent outside moisture and solid contaminants from entering the breather until there is a need for airflow. The modular design allows for economical replacement of the desiccant cartridge.
Applications: Windmills and Wind Power • Mining Equipment • Mobile Equipment
---
If you need assistance determining which Air Sentry® desiccant breather is right for your specific application, please don't hesitate to contact our engineering department.